Description
Other manufacturer options include seals of Nitrile (NBR) or (EPDM).
Connections:
Compressed Air:  1/4″ poly tubing (0.25in)
Vent:  1/2″ Tri-Clamp (0.5in)
Process/CIP:  1-1/2″ Tri-Clamp (1.5in)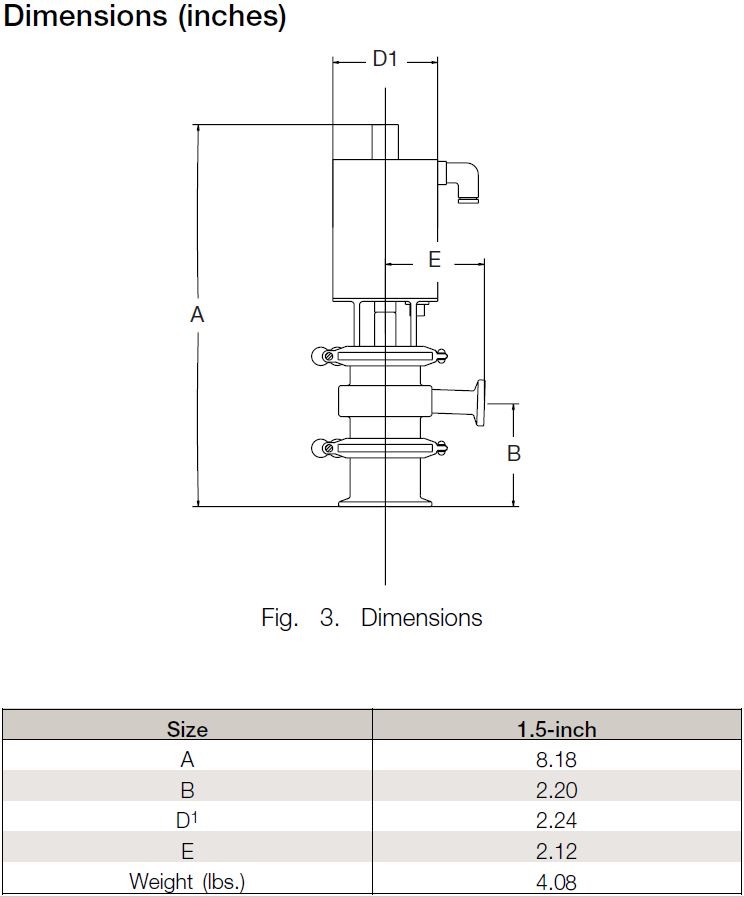 Working principle
The working principle is similar to that of a ball check valve. When pipelines are pressurized during process or CIP, the internal ball is
forced upward against its seat, closing the vent port (see fig. 2a). When pipeline pressure drops, the ball is drawn down, allowing air to
enter the vent, thereby preventing vacuum in the system (see fig. 2b). During CIP, a pneumatic actuator is used (pulsed) to force the ball off
the upper seat, allowing cleaning of the seat and the internals of the vacuum breaker valve. The CIP fluid discharged during the actuator
pulse is ushered to drain via the vent port (see fig. 2c).

Technical data
Valve:
Maximum product pressure . . . . . . . .145 PSI
Minimum product pressure . . . . . . . . .Full vacuum.
Temperature range . . . . . . . . . . . . . .14° F to 225° F
Actuator:
Maximum air pressure . . . . . . . . . . . .101.5 PSI
Minimum air pressure . . . . . . . . . . . .73 PSI
Materials
Valve/Actuator:
Product wetted steel parts: . . . . . . . . .AISI 316L
Product wetted seals . . . . . . . . . . . .FPM
Ball . . . . . . . . . . . . . . . . . . . . . . . .Polypropylene HD
Finish: . . . . . . . . . . . . . . . . . . . . . .≤32 RA
Actuator:
Seals . . . . . . . . . . . . . . . . . . . . . . .NBR
Finish . . . . . . . . . . . . . . . . . . . . . . .Semibright
Spare Parts Breakdown